Article source: http://www.foodbeverageasia.com/en/news-archive/memophenoltm-awarded-at-the-french-innovation-corner/380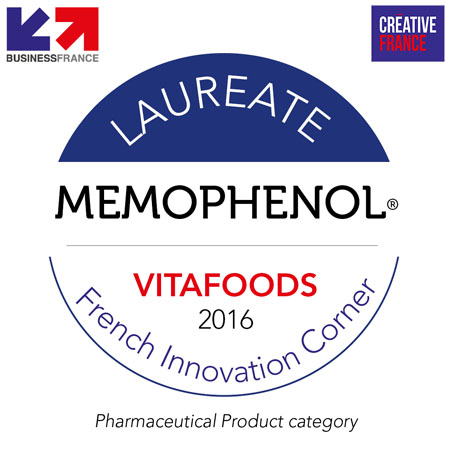 Bordeaux area (FR), June 2016
Memophenol™ has been awarded at the French Innovation Corner in the category of Pharmaceutical Products at the last Vitafoods Europe show.
Memophenol™ has been recognized for its innovation and international resonance among 15 shortlisted products by Nutrimarketing and Bpifrance Innovation. Developed by ACTIV'INSIDE, following a 4-years French-Canadian international research program involving 10 academic and industrial partners, Memophenol™ combines highly bioavailable French grape (Vitis vinifera) and wild Canadian blueberry (Vaccinium angustifolium) extracts, whose synergistic action is patented.
This award also recognizes the R&D approach at the origin of the important scientific background supporting the effectiveness of Memophenol™. The improvement of cognitive functions, especially learning and memory, has been clinically proven. Suitable for a wide audience, from student to senior, the solution Memophenol™ provides a body of scientific evidence and differentiating elements, ensuring product credibility and consumer loyalty.